Indoor Mats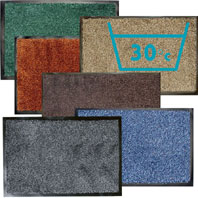 When choosing an indoor mat most of our doormats are suitable, but we recommend going for shorter pile for an indoor floor mat as these give the smartest appearance.
And if you choose to have your indoor doormat printed with a motif or message the shorter pile ensures that the printing looks sharp and crisp. Choosing a message such as "SHOES OFF PLEASE" on your indoor mat also helps ensure your visitors do the right thing, without you having to ask.
If you have a mat well the PVC backed coir makes an excellent choice for your indoor doormat and is available in red, blue, black, charcoal, green, and dark brown in addition to traditional golden brown.