Outdoor Mats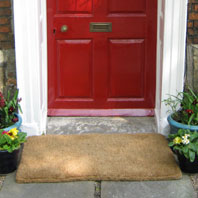 Our outdoor mats are of the best quality and will last for years.
Being exposed to the elements will take it's toll on any door mat, so we don't recommend putting every type of mat that we sell outside.
Being outside means that your door mat will be more likely to get wet. That water needs to drain away and allow the outdoor mat to dry out so it's best to choose a mat without a PVC backing. Our plain coir doormats made from woven coconut fibre, but without a backing are ideal to use as outdoor mats.
Important note about Outdoor Mats:
It is possible to print on mats to be used outdoors but please do bear in mind that your design will last a lot longer if the mat is used indoors.