Frequently Asked Questions
At Make An Entrance we care passionately about doing what we say we will, and getting the job done right first time. We promised to do everything we can to answer your questions and help you find the perfect product for your needs. If you need any assistance in using our site, or if you have any concerns, questions or suggestions we really want to help. Some of the most commonly asked questions are listed below but if you have another question please don't hesitate to contact us, we'd love to hear from you!
About your Mat:
Q. Will my Coir mat be handmade portrait or landscape?
A. Of course, if your mat is plain, it doesn't matter! It is important though when you have lettering or numbering, that we know which orientation you would like. Unless we are informed otherwise, all mats are created 'landscape'. If you would like the mat 'portrait', then please write these instructions in the notes at checkout, or phone through your order on 0208 819 5869.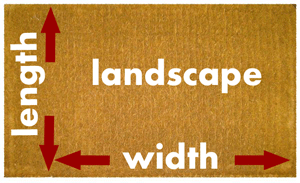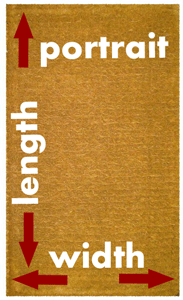 Q. I have a mat well, how much tolerance should I give?
A. If your mat is to go into a mat well, please ensure that you measure the well and not what is currently in it. We will make an allowance to ensure that your mat fits if you give us the correct measurements, but if you measure an old mat and not the well itself the new mat will be too small. If your mat well is a complex shape or does not have properly square corners we will need a template or an accurate drawing to ensure a good fit. Talk to our mat specialists on 020 8819 5869 about your specific requirements and we will be happy to advise. If you tell us the size of the mat well, including the depth, we will then make a mat to fit. However, for accuracy, it is very important that you put in the notes at checkout that your mat is to 'fit a mat well'. If in doubt please phone through your order on +44 (0)20 8819 5869.
Q. What is the difference between PVC backed and Plain Coir?
A. PVC is suitable only if the mat is not likely to get wet. Coir is suitable for all conditions, as it will dry naturally if wet due to the water being able to pass through.

Q. Is Coir better than manmade fibre mats?
A. It depends on what you need to use the mat for and how you would like it to look. For businesses wanting brightly coloured mats and complicated designs or logos printed on them, our jet print textile mats are better. However for a natural look for homes or designs requiring only simple lettering coir is often a better choice. Coir has proved over decades to clean shoes really effectively, and is also environmentally friendly. Our Coir is a natural material made from coconut fibre, and hence is better for the environment. It is biodegradable, and man made fibre mats are not. However, you don't have to worry too much about the biodegradability, your mat will last years and years!
Q. Why should we buy your product rather than buying from the high street?
A. The Make An Entrance mats are hand made by craftsman, and are also denser, meaning they will last longer. It is a matter of quality.
Q. Can we use your mats outdoors?
A. Yes, if you have a Coir mat. PVC backed mats are not as suitable for use outdoors unless you puncture the PVC with holes as they take much longer to dry out once wet. Textile mats can be used inside or out, but will last longer when used indoors.

Q. Can you make large mats?
A. Yes. The largest mat we have made so far is 19 metres (65ft) x 23 metres (75ft) for a racecourse in the UK.
Q. I have an unusually shaped entrance, can you make a mat to fit?
A. Yes, call +44 (0) 20 8819 5869 and talk to one of our product specialists who will be able to advise you.
Q. I have a lot of words and or an emblem to put on a mat, can you do this?
A. Yes, call +44 (0) 20 8819 5869 and talk to one of our product specialists who will be able to advise you.

Q. Can I return a Make An Entrance mat?
A. If a mat is delivered and we have made a mistake, then of course it can be returned for a refund or replacement. We can also offer credit and refunds for certain plain Coir mats returned to us. However, if you have ordered a bespoke mat, for example with lettering or numbering, after it has been manufactured we are may be unable to give a refund. In both these instances, please contact us on +44 (0) 20 8819 5869, and we will help to the best of our ability.
Q. When are your customer service lines open?
A. The Make An Entrance customer service centre is open from 9.30am to 5.30pm Monday to Friday. If all the customer service representatives are busy, please do leave a message, and we will endeavour to call you back. Please be patient at peak times. It may be best to leave both a landline and mobile number, so we have the best chance of calling you back. Make An Entrance is passionate about customer service. Sometimes mistakes can happen and you will want things resolved quickly. We promise that we will always endeavour to help and make things right, and we would ask that you treat all our staff with respect.
Q. What if I need my mat(s) before christmas?
A. It depends on what type of mat you are ordering, and whether it is bespoke or not. 2016 dates are to be confirmed still
Please Note: Last date for guaranteed Christmas Delivery is TBC for 2016.
About Shopping at Make An Entrance:
Q: How can I be sure my credit card details are safe when I shop with you?
A: Our Website uses a market leading secure payment system, SagePay which offers all of the security measures you would expect.
All card details are encrypted using 128-bit encryption; they are not held in clear text on any Website. When you choose to pay online, your card details will not be available to Make An Entrance staff and are not saved anywhere. Your card details are input into Make An Entrance securely and we do not have access to them at any time. Your card and address details are security checked and verified with the relevant card issuer and your payment is authorised. You will receive a confirmation message in your internet browser window to tell you that your order has been processed, and we will receive confirmation from Make An Entrance by email.
However, if you would prefer not to send your credit or debit card details over the internet, you are still able to choose the goods you require using our shopping cart facility. At checkout you simply choose your preferred payment option, payment by telephone or by cheque. We would be delighted to take payment for your order by telephone, which is the quickest way apart from paying by card, as we would need to receive the cheque and have it cleared before processing your order. We are open, 9:30am to 5:30pm Monday to Friday on: contact us on +44 (0) 20 8819 5869.

Q: Can I pay by cheque if I so wish?
A: Of course! Payment may be made by personal cheque using our Shopping Cart facility. Following checkout simply write to us at Make An Entrance Ltd, Minster Lodge, 2-3 Church Lane, Lincoln, LN2 1QJ, UK, quoting your Order ID and enclosing a sterling pound cheque drawn on a UK bank account made payable to "Make An Entrance Limited". Please ensure that you write your name, address and order ID on the reverse of the cheque. Please note that Goods will not be despatched until payment by cheque has cleared.
Q: Can I have a delivery address that differs to the invoice address?
A: It is no problem to provide an alternative delivery address, such as a work address. Please supply the full delivery address including the full postal code (PO Box addresses are not acceptable for delivery) and a contact telephone number by modifying the delivery address details when placing your order.

Q: Do you send out samples?
A: This is not usually necessary but we may be able to send out samples on request. Please contact us on +44 (0) 20 8819 5869 or email us at help@makeanentrance.com.
Q: How much is postage and packing?
Throughout UK:
£6.99 per order
Europe:
£19.50 per order

US / Rest of the World:
On request.

Q: Do you ship outside the UK?
A: Yes.
Q: Are there any customs implications of having my goods shipped overseas?
A: Generally, any duty due on the goods we sell has been accounted for. However, please be aware that we cannot be held responsible for any import taxes or duties levied by authorities in the destination country. If you have any queries as regards duty on imports we suggest you contact your local customs office.

Q: How long will my order take to arrive?
A: All our products are hand finished by our craftsman, but it depends on the product. Bespoke PVC backed coir products and all standard mats usually just a few day, a maximum of 2 weeks at our busiest periods. More bespoke products can take a little longer. Although please do allow up to 4 weeks as it may take us longer at busy times. Courier Service should reach you within 24 hours of dispatch, although outside of mainland UK, delivery times will be longer. If you would like to check lead times, or track the processing and despatch of your order please email us at help@makeanentrance.com or telephone +44 (0) 20 8819 5869. For more information please see the Despatch section of our Terms & Conditions
Q: Are the products I buy insured if they are lost or damaged in the post?
A: Yes, if items are lost or damaged in the post they are insured. If any item arrives damaged or defective, please contact us in accordance with the Damaged Goods Policy. You should inspect the Goods when you receive them for damage or defects. In the event that your order is incorrectly shipped or found to be damaged or defective, please contact us within 2 working days of receipt of Goods. The Goods should be promptly returned to us including the original invoice and packaging. We will then offer you a full refund or replacement including postage. We will not accept any responsibility for loss or damage to Goods returned in this way until they are received at our address (Returns Dept. Make An Entrance Limited, Minster Lodge, 2-3 Church Lane, Lincoln, LN2 1QJ, UK). We strongly recommend that returns are sent by 'insured registered delivery' and the original proof of posting is kept.
Q: What if I change my mind about a purchase?
A: We do hope you will be delighted with your purchases. If for any reason you are not pleased with your purchase, please return the Goods, unused and in their original packaging together with the return form supplied with the delivery, within 15 working days from receipt of the Goods for a refund or an exchange. Please note that, we are unable to offer refunds or exchanges on any used product. Additionally, we cannot offer any refunds for customised or bespoke Goods which are not damaged or defective. Please note that we are not responsible for return postage other than for incorrectly supplied, defective or damaged Goods, when we would ask you to contact our Customer Services in teh first instance to arrange a pick up. For more information please see the Cancellation, Returns and Exchanges section of our Terms & Conditions.

Q: What is the returns process?
A: Please see the Cancellation, Returns and Exchanges section of our Terms & Conditions.
Q: Can I have the choice not to have any direct marketing sent to me?
A: You will only receive promotional information from us if you opt in by ticking the appropriate box during the registration process, or subscribe to our newsletter via our homepage. You can unsubscribe from our contact list at any time by either submitting a request via our homepage, replying to a promotional e-mail with the word "unsubscribe" in the subject line, by e-mailing us at help@makeanentrance.com or by telephoning us on +44 (0) 20 8819 5869. For more information see the Privacy Policy section of our Terms & Conditions.
Q: Can I be assured that my details won't be passed on to anyone else?
A: We use industry standard security to safeguard the confidentiality and storage of your personally identifiable information in accordance with current UK Data Protection legislation and guidelines. We never pass, disclose or sell our customers' personal details to any marketing lists. For more information see the Privacy Policy section of our Terms & Conditions.
Q: Do you offer discounts to frequent or bulk purchasers?
A: Yes, please contact Stuart our Corporate Manager on +44 (0)20 8819 5869 to discuss your needs.
Q: Do your prices include VAT?
A: As orders through the website are primarily made by retail customers the prices shown are inclusive of VAT. Our invoices do split out the VAT element of what you have paid so if you are a VAT registered business you will be able to use this to reclaim the VAT on your purchase where appropriate.
Q: Do you refund VAT on goods sent to the Channel Islands?
A: By instruction from HM Revenue and Customs, we can no longer deduct the VAT at the point of the transaction, as proof of actual dispatch is required. However, we would be delighted to refund you if you call us on +44 (0) 20 8819 5869 or email us at help@makeanentrance.com after placing the order and we will refund any VAT that you have paid immediately.