Outdoor Logo Mats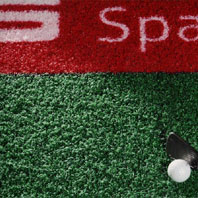 All Weather Outdoor Logo Mats custom made to match your company branding.
The ideal way to introduce visitors to your brand in a matting solution that can withstand the rigours of being outdoors.
Traditional coir matting and carpet style logo mats don't cope well with being outdoors; by choosing one of our outdoor logo mats you have something specially designed for the job.
This hard-wearing material with a coarse surface has an excellent scraping action and is very effective at removing dirt and grit before they reach your floors. The backing of this outdoor logo mat features perforations that allow water to drain away preventing water pooling and slip hazards.
Choose from our range of 44 standard colours, or have your mat pantone matched to your exact colour requirements. Download an information sheet and request a quote below.