Have you considered getting a new doormat for your home? Or have you heard of coir but aren't sure if it's a wise investment? This blog will cover all things coir-related, so you can work out if it's the right doormat for you.
A coir mat is a type of doormat made from the husks of coconuts. The fibres are woven together to create a durable, long-lasting, water-absorbent mat that's great at getting dirt and moisture off your shoes.
How are Coconuts made into Doormats?
When making a coir doormat, the manufacturer starts with the coconut itself. The coconut fibres are soaked, then husked and dried to leave the traditional coir fibres we're used to. From here, these natural fibres are laid out and then woven together in various patterns to form the natural coir doormat. After weaving, the coir mats are either left natural or dyed in different colours and placed onto PVC backing. These mats can then be cut to size and distributed to their new homes!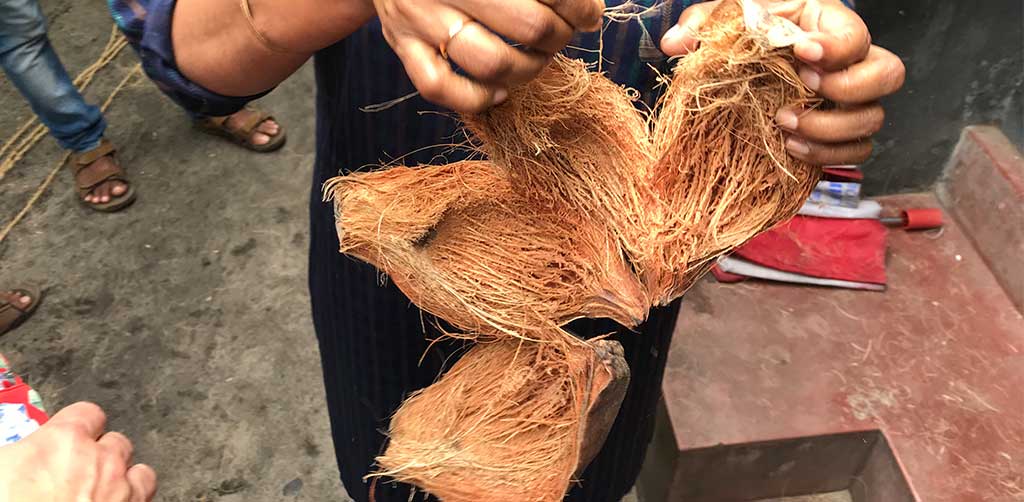 What are Coir Mats used for?
So, now you know what coir is and how it is made, but what exactly are coir mats used for? Here are the two most common uses of coir:
To Welcome Visitors to Your Home:
Coir mats come in a range of different designs, so you can easily find one to suit the style of your home. They're the perfect addition for anyone looking to revamp their entrance!
To Protect Flooring:
Coir mats are perfect for preventing dirt from being tracked inside, which helps to keep your floors clean and looking good. Long-term, this can be a cost-effective way to maintain your flooring and be a fun accent piece.
Can Coir Doormats be Cut to Size?
Yes! As coir matting is made from coconut husk, it can be cut and adjusted as needed. So, if you have a smaller entrance or are looking for a doormat for your office, you can be sure that you'll find the right-sized coir mat.
Here at Make An Entrance, we understand the importance of a great doormat. That's why we offer coir matting cut to size, which comes in a range of thicknesses and grades from 14mm-30mm. With delivery in just a couple of days, you can have your coir doormat delivered in no time! For more information, please get in touch with one of our customer service professionals today.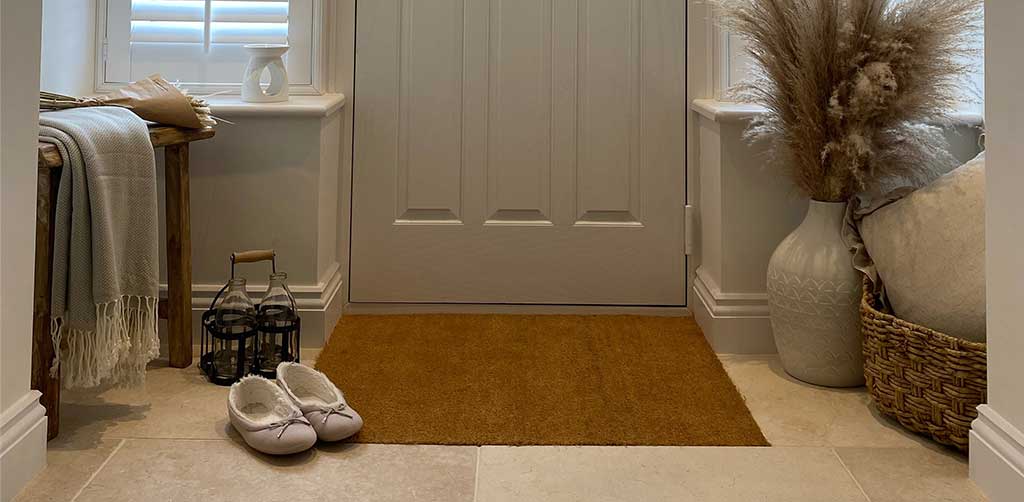 What are the Benefits of Coir Matting?
Here are some of the benefits of coco coir doormats for your home:
Incredibly Durable:
Coir mats are designed to last and can easily withstand heavy foot traffic and daily use. Due to the strong nature of the coir fibres, they're also great at dislodging dirt and moisture, minimising the debris tracked into your home. The tough bristly fibres are often a key selling point for this mat.
Water Absorbent:
The strong fibres in coir mats can absorb a large amount of moisture, making them ideal for wet weather, especially in England! This entrance matting helps reduce slips and falls in your doorway and stops water from damaging your flooring.
Affordable:
The cost of coir mats is generally cheaper than other types, making them perfect for those on a budget who still want to make an impact with their entrance!
Environmentally Friendly:
Finally, coir mats are also a great eco-friendly choice as they're made from a naturally renewable source. So when it comes time to replace your mat, you can rest assured that you've minimised your carbon footprint.
How do I Clean my Coir Doormat?
Cleaning your coir doormat is easier than you think! When your mat begins to look dirty, simply start by waiting for it to dry. This will ensure that removing the mud when wet won't ruin the mat and stain it. You'll then want to take it outside and shake it vigorously- the dirt will come right off! If not, grab a stiff brush and gently brush the dried mud. This will help dislodge the dirt along with the shaking.
This is the best way to clean a coir doormat, as it is a natural fibre that will be damaged by harsh chemicals such as detergents. If you attempt to clean the mud when wet, it is likely it will increase the stain even more.
Please look at our 'Care and Maintenance' guide for more information on cleaning your coir mat.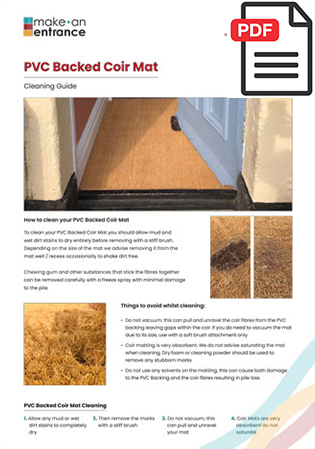 We hope this guide has been helpful and has shown you the many benefits of choosing a coir doormat for your home. If you're interested in purchasing a coir mat, contact us today!
Coir Doormat FAQs:
We've done our best to try and answer some of the most common questions about coir doormats below:
Can a Coir Doormat get wet?
Yes. Coir is an incredibly water-absorbent material, absorbing any water it comes into contact with. However, due to its absorbency, we do not recommend leaving it outside or in areas where it will become over-saturated. Long-term, this will make the mat less effective.
What is a Coconut Mat?
A coconut mat, also known as coir matting, is a type of entrance mat made from the fibres of coconut husk. These are woven together to create the doormat. For more information, why not look through our recent blog post on What Is Coconut Matting.
Can you Leave a Coir Mat Outside?
Whilst you can leave a coir doormat outside, it can become over-saturated and lead to long-term damage. We recommend using a coir doormat inside to eliminate any trapped dirt on shoes, in conjunction with another water-resistant mat outside.