A Family Business
Make An Entrance is a family-run business based in Lincolnshire. Founded from charitable roots, we have been operating online since 2005. We supply homes and businesses across the UK with made-to-measure door mats of every type.
Husband and wife team, Stuart and Samantha Burlton created the business, following in the footsteps of Stuart's father Allen, who in the 1990s, managed a Royal School for the Blind factory, where visually impaired people were employed to make handmade mats.
The Burlton family has prevented this traditional skill from dying out and is now training a new generation of mat makers in our Lincolnshire workshops.
Make An Entrance - About Us from Make An Entrance on Vimeo.
Made In Britain
We are proud to make as many of our products as possible in the UK. We do have to import our raw materials from Sri Lanka, as coconuts (where coir comes from) do not grow in the British climate, but we are working towards making as much as possible of the finished product here in the UK.
Passionate about Customer Service
Our customers are treated with the utmost respect. Unlike many online businesses we do not hide behind automated web chat or make it difficult to contact us. Our number is on every page of our site, and we encourage customers to call.
We pride ourselves on our excellent customer service via both phone and email. We respond promptly and always keep our promises. Please contact us with your questions, we'd love to help you.
5 Star Reviews
Our customers are delighted with our service. Take a look at our reviews on
Trustpilot
,
Google
and
Facebook
.
Award Winning
We have been recognised with many awards and accolades. Most recently we were named Federation of Small Business Family Business of the Year 2022 (East Midlands).
Bespoke Solutions
We specialise in the mats you can't find anywhere else, most of what we do is custom-made to order to your exact specifications. With over 30 years of combined experience in the production of bespoke coir door mats Make An Entrance is an expert in its field. Today we offer not only coir mats but many other types of entrance mats too.
We have doormats for homes, business entrance mats printed with your company logo, and even funny and personalised doormats too.
Craftsmanship
Many of our mats are hand-finished, and some are even stitched by hand, so you can be assured of a quality finish. Our entrance mats are made to last using high-quality materials. You may sometimes find similar-looking doormats cheaper elsewhere, but we're sure they won't be better. It's a question of quality.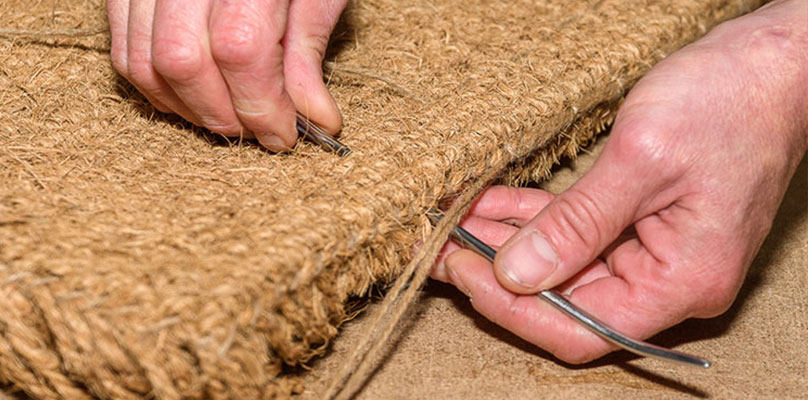 Rapid Courier Dispatch
Place an order with us and we'll send it out to you as soon as we possibly can. In most cases, this will be within a day or two of order, but our made-to-measure and bespoke products take a little longer usually about 2 weeks. We use reliable 24-hour courier services so you can be sure that your order will reach you safely.
Personal Service
Make an Entrance is a family run business, and we pride ourselves on giving excellent service and getting the job done the right first time. If you need help or advice in choosing your mat, please contact us or give us a call on 020 8819 5869, our mat specialists would love to help you.
Thank you for choosing us,
Stuart and Sam Burlton and the Make An Entrance Team