Our Made to Measure Door Mats Process
Made to Measure Door Mats is our Family Business
Our family has been making made to measure door mats for generations.
Traditional doormats made from coir is where our business started decades ago and we are proud that despite many significant challenges in recent years such as Brexit, COVID and the cost of international shipping we are keeping the skill alive.
In 2019, we opened our Custom Matting workshop in Lincolnshire where we are training a new generation of doormat makers and apprentices to ensure that this heritage craft is not lost from UK manufacturing.
We are extremely proud of our heritage and delighted to share our process with you to help explain why our made to measure door mats are so special.
Take a look at our video to see how we make them:
The Making of Hand Stitched Traditional Coir Doormats from Make An Entrance on Vimeo.
Made from Coconuts
Coir is the traditional doormat material. It is a by-product of coconut product and very sustainable. It is the outer husk of the coconut that is taken away to leave the brown hairy coconut that we all recognize from the fruit and vegetable aisle. This outer husk is soaked in water and dried in the sun to produce coir fibre. This is then spun into coir yarn. The yarn is then woven on an enormous loom into coir matting.
This entire process takes place in Sri Lanka where the coconuts grow. Other countries such as India also make coir matting, but ours currently comes from Sr Lanka.
Shipped by Sea
Our giant rolls of coir matting are then packed into shipping containers and travel by sea to the UK. This takes a while, usually about 6 weeks but delays can happen, so we always ensure we keep plenty of stock.
We care deeply that we should keep the entire process as sustainable as possible, so we never air freight. The rolls are enormous anyway!
Choice of Thickness
We stock the material in 25mm, 30mm, 35mm and 40mm thicknesses so we can usually make the perfect made to measure door mats even for people with a very deep mat well.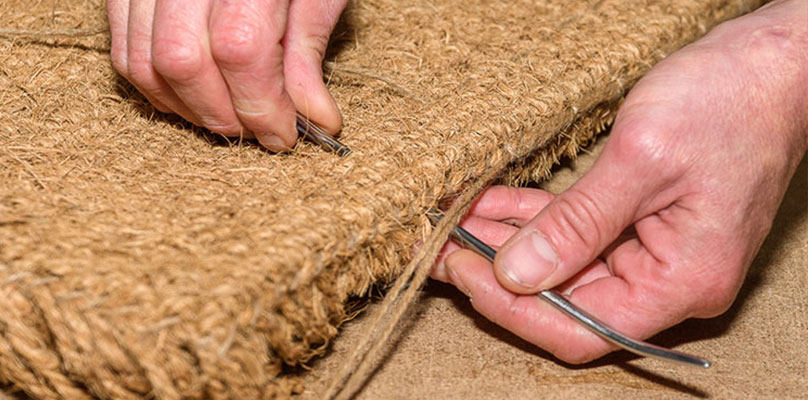 Order your exact size
Our customers can
order online
or call us on
020 8819 5869
. Once the workshop team know exactly what size is required, they set to work.
Exactly your size
Our skilled team know exactly how much material to cut from the roll so that after they have removed the excess material, bound the edge and hand stitched it the finished mat is the perfect size.
Our process - A labour of love
Cut material from roll
Remove excess fibres
Tie in the edges with twine
Hand stitch the edge
Check for and correct imperfections
Shave the mat for a uniform surface
Roll up and tie with a personalised card from the maker
Pack with care
Exceptional Made to Measure Door Mats
As you can see, this is a labour intensive process which is why these mats generally have a two week lead time. We pride ourselves on the quality of what we make and will not rush. Your mat will be beautifully finished and made to your specifications, but we cannot do this instantly.
Unusual Shapes and Templates
Our team don't just make simple rectangular mats. If you have an unusual, shaped porch or need a section left out of your mat, we accept templates. You produce a template at home from thick paper and we will make a mat to that template. However, please talk to customer service first so that we can give you clear instructions for how to make your template.
Contact customer service
or call us on
020 8819 5869
Visit our Made to Measure Traditional Doormat page to learn more or to order online.