Horse Matting for racecourses, trainers, and stables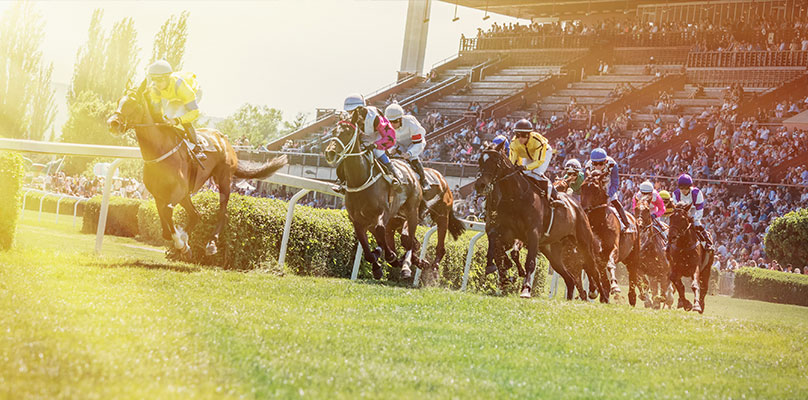 We are coir matting specialists, a family business with decades of experience making traditional coir mats. These are most often used as doormats.
But did you know they can be used for horse matting too?
Over the years we have supplied coir matting for a wide range of equestrian uses. Historically they were used at racecourses with road crossings across the track. They can also be used to prevent horses from slipping on hard surfaces and to protect racegoers' footwear when the British weather makes mud a problem.
Read on for a more detailed insight into the many uses of traditional coir matting as Horse Mats. If you'd like one-to-one advice right now, our specialist team is here Monday to Friday 9-5 to give whatever advice you need. Please call Matthew or Molly on Call us on 020 8819 5869 or email us.
Otherwise, read on…
Racecourse Road Crossing Mats
Many racecourses have a road crossing the track, which is necessary for access. However, come race day it can present a problem as it is not a uniform surface with the rest of the track.
To protect horses and jockeys, huge coir mats were traditionally used to cover the road. This was then covered with sand to create a cushioned surface for the horses to race over.
The mats can be rolled up and dry stored after use to give them the longest life. As coir is a completely natural product, a byproduct of coconut production, it is totally biodegradable.
At the end of their life, these mats can simply be composted making them a very sustainable solution.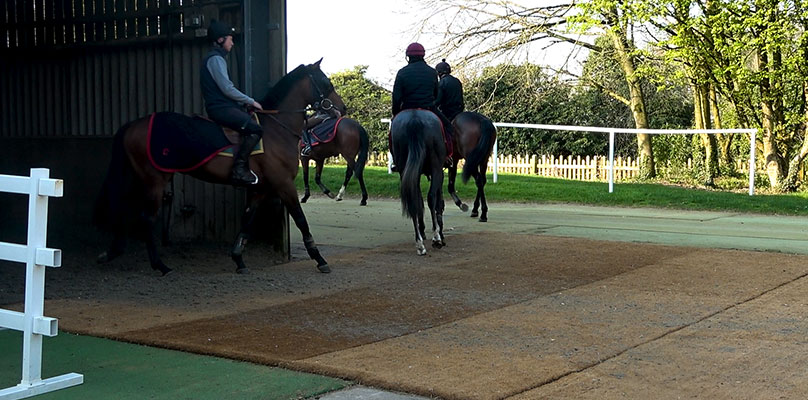 Training Stables Anti Slip Matting
Racehorse trainers need to keep their horses in tip-top shape and ready to race. They can't afford to have easily avoidable injuries which would keep the horse from its exercise programme.
Horses can slip on hard surfaces like tarmac and concrete, particularly in wet or icy weather.
Woven Coir Matting is an excellent solution. Its soft underfoot, the woven backing allows a degree of breathability to encourage the matting to dry out and it's heavy enough when used in large pieces to not move easily.
Clive Cox Racing recently had us make them a giant mat to cover 45m2, where a tight turn on the concrete outside their stables created a potential slip hazard for the horses.
Read the case study of the mats we made for them.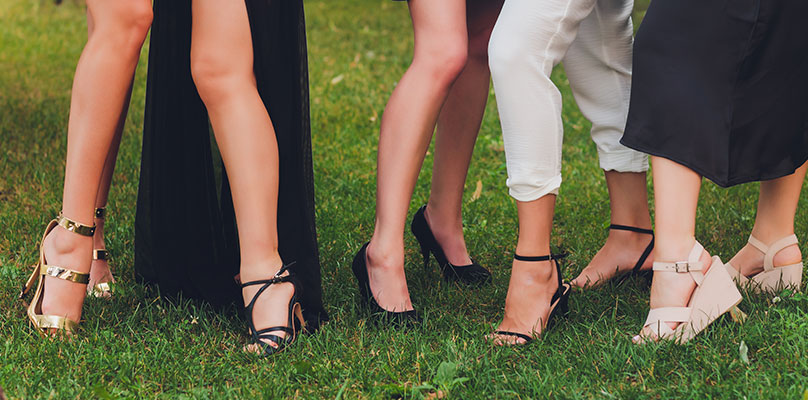 Racecourse Pavilion Matting
Race days in Britain can be a stylish affair. Beautiful dresses, elegant heels, and if the British weather does its thing, quite often wet grass, and muddy shoes, doing their best to spoil the effect!
Coir matting can come to the rescue here too!
We recently made an enormous 36m2 mat for outside the pavilion at Perth racecourse to help ladies on race days keep their dresses and heels out of the dirt.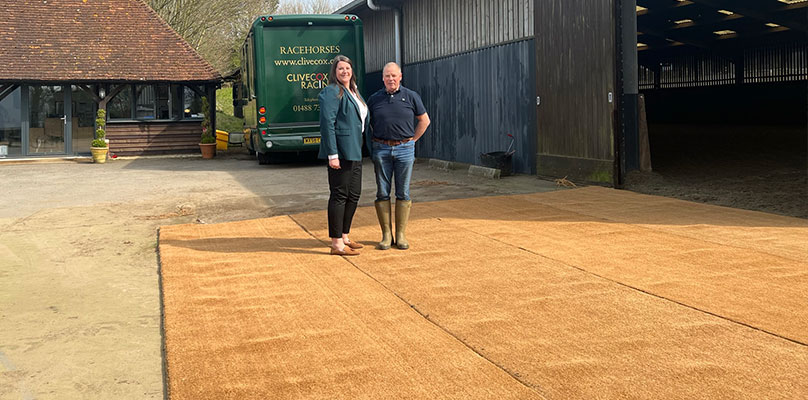 If you'd like to discuss your horse matting needs, our specialist team is here Monday to Friday 9-5 to give whatever advice you need. Please call Matthew or Molly on Call us on 020 8819 5869 or email us, we're here to help.