Coir Matting: Which quality do you need?
All coir matting is not the same.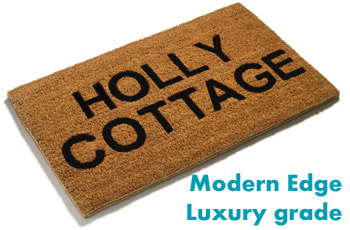 It might be a golden brown colour and made from coconuts, but there is a vast quality difference in coir matting.
As doormat specialists we stock all of the grades at Make An Entrance. Here we explain the differences so that you can choose what's right for your project.
Of course if you would like to discuss your requirements with one of our experts we'd love to talk to you. Just give us a call on 020 8819 5869 or contact us.
The main differences.
Luxury and commercial grade coir matting has more fibres per metre than the budget grade products.This results in a denser pile, more uniform colour and less shedding - ultimately the luxury and commercial grade products will last longer too.
Traditional Coir Doormats.
These mats have a woven backing and bound edge, and we supply them either made to measure or in standard sizes.
Our made to made coir doormats only come in the the highest quality coir available. For the very smartest appearance choose a shallower pile. The shorter bristles stand up firm and straight resulting in avery neat finish. The fibres in the thicker mats (30mm +) lay down a little more. Think about very short cropped hair or that which is a bit longer and you'll understand what we mean.
Our standard sized traditional coir doormats come in 2 qualities; budget and luxury. The difference is due to how many fibres there are per metre.
The luxury mats have very dense tightly packed fibres to give a smart and uniform appearance and firm pile. They are extremely long lasting.
The budget grade mats are looser with a less uniform surface. They won't last as long as the luxury mats and will shed more.
Cut to size coir matting.
A must for mat wells and extremely popular. At Make An Entrance we offer 3 grades for cut to size coir matting.
Commercial / Heavy Duty Grade - For commercial use and when only the best will do.
The highest quality cut to size coir matting on the market. This is the material we supply to hotels, restuarants and other businesses. The bristles are packed tightly together to give a very firm brushing action and the colour is uniform. Minimal (if any) shedding after the first 2 weeks.
Available in 17mm, 20mm, 24mm and 30mm thick.
Superior Grade - Ideal choice for home use.
A dense surface and uniform colour which looks very smart. Some shedding is normal with any coir matting but with our superior grade matting this dies down quickly. A noticeably superior grade product.
Available in 17mm, 20mm, 24mm and 30mm thick.
Budget Grade - Choose this when cost is the main concern.
A lower cost option than our superior product, this matting still has an excellent brushing action and is effective at removing dirt.
It does not have a uniform colour, it will shed more and won't last as long as our superior and commercial grades of coir but is ideal when price is the deciding factor.
Available in 15mm or 17mm thick.
If you need more advice please contact us. or call us on 020 8819 5869. We'd love to help.