County Life Magazines Reader Offer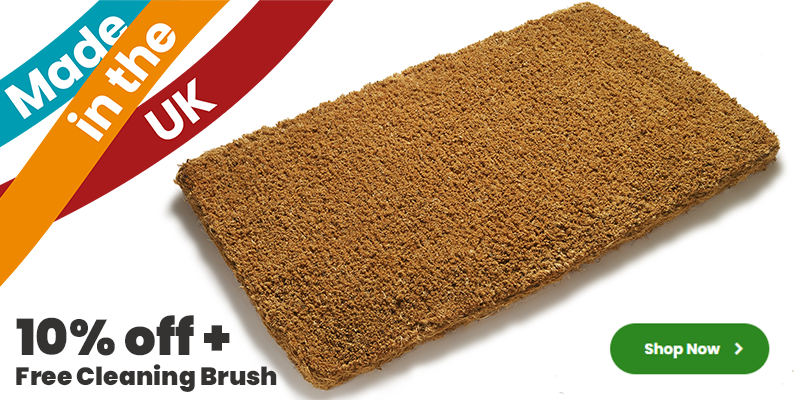 When you've taken time and care with your interior design, certain details make an enormous difference in keeping everything looking pristine.
Doormats are often overlooked. An afterthought, with a very practical purpose. But when poorly chosen their utilitarian appearance can easily spoil the effect of your painstakingly put together interior. But there is another way.
Beautifully hand-crafted doormats made to measure right here in the UK by skilled artisans.
Make An Entrance is an award-winning family business with a long history of mat-making.
They make bespoke doormats from Traditional Coir (coconut fibre) the way that they've been made for generations. Coir is the last word in sustainability. It's a by-product of coconut production. An extremely hard-wearing and absorbent material that, because it's 100% natural will biodegrade completely at the end of its life.
Doormats like they used to be
If you've ever thought that doormats don't seem to last as long as they used to. Or that you can't seem to find the coconut mats of years gone by, you're right. The skill of hand-crafted doormat making had all but died out in the UK until Make An Entrance revived it.
As production methods have changed over the years, it's become rare to find coconut mats without a PVC backing. Make An Entrance set out to change this and now offers a comprehensive range of woven back 100% coir mats, without any PVC backing in a choice of thicknesses, sizes, and edging.
Now, beautiful, sustainable, 100% coir / coconut mats are available once more via our website or telephone helpline.
Comprehensive Range of coir mats
The team behind Make An Entrance specialises in custom-made mats, and will produce individual mats to whatever size and thickness you need.
Indoors, Outdoors, for Mat Wells or Freestanding. Personalised, Machine Washable mats and more. For anything doormat related Make An Entrance is the answer.
The jewel in our crown is the traditional hand-crafted coir mat. Lovingly made to order by hand in our UK workshop.
The quality of these long-lasting mats is second to none. The excellent scraping action and absorbency of coir make it a perfect solution for a country home. Mud stays on the mat instead of your beautiful floor coverings. Then, when thoroughly dry can be simply brushed away with a coir mat cleaning brush.
Exclusive Country Magazines Reader Offer
If you would like to try out the elite of the doormat world, Make An Entrance is offering County Life Magazines readers 10% off a traditional hand-stitched coir mat plus a free cleaning brush worth £5 with offer code "COUNTYLIFE"
Offer ends 28/02/23.
PLEASE NOTE: To ensure that you receive your free cleaning brush AND your 10% discount be sure to order via the link on this page and don't forget to input your discount code "COUNTYLIFE" at checkout. Discounts cannot be applied retrospectively if you forget to use your code and they do not apply to any other product, only the exclusive product with a Free Brush for County Life Readers.
Order online or call 020 8819 5869.
If you'd like to discuss your matting needs, or need help placing your order our specialist team is here to help Monday to Friday 9-5. Please call us on Call us on 020 8819 5869 or Contact us, we're here to help.