Placing An Order
Q. I want Coir Matting for my mat well, how do I measure and order?
A. If your mat is to go into a mat well, we strongly advise that you measure the well and not any matting that is currently fitted. Your existing mat could measure significantly smaller than the well itself due to wear and tear. It is important that you measure all four sides of the mat well; experience has taught us that quite often mat wells are not perfectly square! If you find that the opposite widths and/or lengths of the well are not equal, then for PVC Backed Matting the best option is to order the largest width and length dimensions. Our PVC Backed Matting can then be trimmed down in situ using a sharp Stanley/Craft knife and a straight edge. This is easy to do, click here for further guidance.
We can produce our Made to Measure Mats to an "irregular shape" (i.e. something other than a rectangle / square with 90⁰ angles) by working from a life sized template or accurate diagram. This is a must for our Made to Measure Traditional Doormat where the edges are hand stitched and so cannot be trimmed in situ. For instructions of how to go about sending us your template or diagram, click here. Once we receive your template/diagram we will contact you via email to provide a quote and advise further steps for ordering.
To order online, the width and length dimensions must be input in centimetres for our online system to work properly. Unfortunately we cannot process orders that have been input in feet/inches or millimetres/metres. You also need to choose the thickness of your matting. We stock a wide range of thicknesses from 12mm right up to 45mm. The thickness very much depends on the depth of your mat well, as most people aim for the matting to be flush with the surrounding flooring when installed into the well. If you have a very deep well, you can always put material like plywood underneath the mat to raise it up to the top. Click here for more advice about mat thickness.
Q. I would prefer a Carpet Mat for my mat well, how do I order?
A. Measure all four sides of your mat well and then choose from our range of Made to Measure Carpet / Textile Mats. Once you have input your dimensions in centimetres, simply select Without Border from the drop down menu. We also recommend selecting the 2.5mm extra backing as this makes the matting more rigid and easier to install into the well. There is no need to worry that your mat well isn't square when ordering our carpet matting, we automatically allow for this by producing the mat a few centimetres oversized. It's then easy to trim off the excess with a sharp Stanley knife, click here for guidance.
Q. My mat is going to be loose laid on top of the floor indoors, which should I order?
A. There are many options for loose laid mats; we stock a huge range of products! You could opt for one of our Standard Size Doormats made from natural coir. These are both hardwearing and absorbent. The key things to check are the amount of clearance that you have beneath any door opening over the mat to ensure the door will open, and also the dimensions of your available space as our Standard Size Doormats can often be 2-3cm larger/smaller than specified. As the listed sizes are generic, the mats can differ in size. For this reason, we do not recommend our Standard Size Doormats for installation into a mat well recess or a confined/exact space.
Another option is our range of Machine Washable Door Mats that are highly absorbent and a great choice if you have limited clearance beneath your door. With thicknesses starting at just 5mm as well anti-slip backings, these are perfect for high traffic areas where the mat needs to stay put! We also offer a Made to Measure service in this range, allowing you to choose your own specific size from up to 100 different colours. If you decide to order a Made to Measure Carpet Mat for being loose laid on top of the floor, simply measure your space, input your dimensions in centimetres and select "With Border" to specify that your mat is produced with the anti-trip border.
We recommend the following products for being loose laid on top of the floor:
Modern Edge Plain Coir Doormat
Made to Measure Traditional Doormat
Made to Measure Washable Block Colour Carpet Mat
Q. What is the best mat for outdoor use?
A. The main points to think about with a door mat that is situated outdoors and is exposed to the elements is how well the mat will drain and dry. On our Outdoor Mats page we recommend a variety of different materials, however if you know that your mat will be situated in an area where it may not drain and dry well, then the best option would be to choose either a Synthetic or Rubber mat, as these do not perish. Whilst natural Coir is fine for use outdoors, it does need a little care and attention to ensure the coir fibres are not adversely affected by the elements. For example, we always recommend woven backed Coir rather than PVC backed for outdoor use, as it drains more effectively. We have also found that thinner mats dry a little quicker.
Take a look at our recommendations for outdoor matting:
Scraper Outdoor Doormats Cut to Size
Traditional Edge Plain Doormat
Large Rubber Door Mat - Outdoor / Indoor - Easy Clean
Q. Will my mat be Landscape or Portrait orientation?
A. Of course, if your mat is plain, it doesn't matter! You can simply turn your mat to your desired orientation. It is important though when you have lettering or numbering, that we know which orientation you would like. 'Landscape' is the most common orientation for a doormat, with the longest dimension going across the doorway. However, you may be looking for a 'runner' style mat, in which case 'Portrait' orientation is best suited. Some of our Personalised products have an option to choose the orientation, for these products we always use the orientation you have selected rather than the width and length dimensions to determine the location of the printing. All other mats are created 'Landscape', unless we are advised otherwise. If you would like the mat 'Portrait', then please write these instructions in the notes at checkout, or email our customer service team at help@makeanentrance.com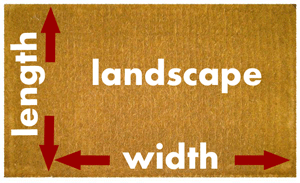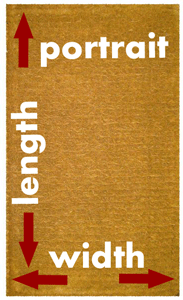 Q. Do you send out samples?
A. We are able to send out sample swatches of the majority of our made to measure mats on request. Please contact us at help@makeanentrance.com. If you are looking for a colour match for natural un-dyed coir, please be mindful that the colour can vary between rolls of coir as it is a natural material. Therefore a sample of natural un-dyed coir may not be exactly representative of the colour you later receive in your order.
Q. Can I place my order over the phone?
A. Yes, we are happy to process orders and payments over the phone. Our Customer Service centre is open from 09:00 to 17:00. If all of the customer service representatives are busy, please do leave a message and we will endeavour to call you back. Please be patient at peak times. It may be best to leave both a landline and mobile number, so we have the best chance of calling you back. We also have a Pay By Phone option on our checkout page if you would prefer us to process your Credit/Debit Card details over the phone.
Q. Will I get confirmation of my order?
A. An order confirmation email is automatically sent to your email address when your order is placed in our system. If you have not received this, it is worth checking your Junk/Spam folder in your email account, as it is an automated email generated by our system and some email accounts are sensitive to this. The order confirmation email will contain the details of your order along with your order number, which is useful to quote if you contact us regarding your order. If you need a separate VAT invoice for your order, please email us at help@makeanentrance.com
Q. How can I be sure my credit card details are safe when I shop with you?
A. Our Website uses a market leading secure payment system, SagePay which offers all of the security measures you would expect.
All card details are encrypted using 128-bit encryption; they are not held in clear text on any Website. When you choose to pay online, your card details will not be available to Make An Entrance staff and are not saved anywhere. Your card details are input into Make An Entrance securely and we do not have access to them at any time. Your card and address details are security checked and verified with the relevant card issuer and your payment is authorised. You will receive a confirmation message in your internet browser window to tell you that your order has been processed, and we will receive confirmation from Make An Entrance by email.
However, if you would prefer not to send your credit or debit card details over the internet, you are still able to choose the goods you require using our shopping cart facility. At checkout you simply choose your preferred payment option, payment by telephone or by cheque. We would be delighted to take payment for your order by telephone, which is the quickest way.
Q. Can I pay by cheque if I so wish?
A. Of course! Payment may be made by personal cheque using our Shopping Cart facility. Following checkout simply write to us at Make An Entrance Ltd, Minster Lodge, 2-3 Church Lane, Lincoln, LN2 1QJ, UK, quoting your Order ID and enclosing a sterling pound cheque drawn on a UK bank account made payable to "Make An Entrance Limited". Please ensure that you write your name, address and order ID on the reverse of the cheque. Please note that Goods will not be despatched until payment by cheque has cleared.