The question of whether welcome mats go inside or outside is a common one. And the answer is, it all depends on your individual circumstances.
There are several factors to consider, such as how often very dirty shoes come into your home, whether you have a covered porch and how much space you have outside your front door.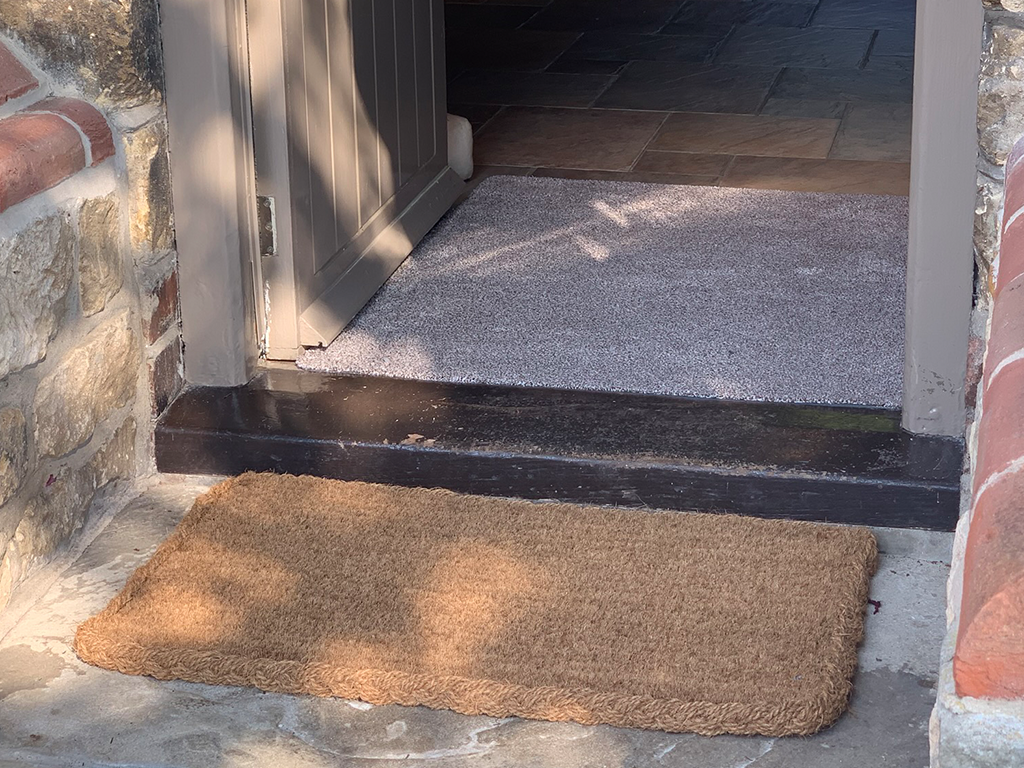 Outdoor Mats
An external mat can be extremely useful if you have the space. The best outside mats have a strong scraping action. Scraper mats are designed to remove the worst of the dirt and debris from shoes and boots and the presence of an outdoor mat will encourage people to wipe their feet. You are setting the expectation of wiping feet and removing the worst of the dirt before stepping into the room.
When selecting a mat for to use outside, the choice of materials is crucial. Poorly chosen mats will not last, or they will fail to keep floors clean.
Coir
Mats made from coir (coconut) are the most traditional choice and they make excellent door mats because they are highly absorbent mat and their rough bristles scrape mud and dirt from shoes very effectively, keeping floors clean.

However, coir mats are not waterproof and if left exposed to the elements can become waterlogged because they soak up water so effectively.
If it is a coir mat with a PVC or rubber backing it will become very wet if used outdoors and exposed to rain and moisture. For this reason, we recommend that coir mats only be used outside if you have a covered porch to shelter them from the elements.
Of course, you may love the traditional styling of a coconut mat and want to use one outside your house even if you cannot shield it from the rain and snow.
There is no doubt of the decorative appeal of a printed coir mat with an attractive design, and many people do choose to use this material for their outdoor doormat. You simply need to bear in mind that it will need to be replaced more frequently than other types of door mats.
Rubber
For heavy traffic, the best doormat to have at your front door is a mat made of rubber. This type of mat can be very decorative, but it is extremely weather resistant.
Versatile and Easy to Clean
Rubber entrance mats come in a choice of shapes including rectangular and half-moon. They are even available for double doors too. Because they are relatively weighty they are not prone to slipping and sliding and are very easily washed down with a hosepipe.
Pair with an Absorbent Doormat
A rubber mat is not at all absorbent though so it is imperative that it is paired with another more absorbent mat inside.
If you can only have one mat, they don't choose rubber as it won't stop wet footprints from being walked onto your indoor floors.
Create your own Doormat
At your front door, part of the point of the mat is to make your entrance stand out. For this reason, although rubber mats are extremely durable, they are not always pretty enough to have at the front of the house, and some people prefer to use them at the back door instead.

Effective and Personalised
Outdoor personalised scraper mats, serve the dual purpose of being excellent at removing mud and dirt from shoes and boots when your visitors wipe their feet, but as they are custom made you can create the perfect mat for your home entrance too. They can be used inside too.
Customer Made and Heavy Duty
These scraper mats come in over 100 colours and are custom-made to order so your outdoor mats can match the style of your home but cope with very heavy traffic too.
Easy to Clean
When dirt is dry you can simply shake it to keep the mat clean but if heavily soiled it is easy to wash this type of mat with a hosepipe too, keeping your entrances pristine at all times.
Indoor Mats
Indoors, the selection of doormats your family could choose to protect your inside floor or carpet is much more varied.
Doormats belong just inside the front door but there are many other places around the home where you can use an indoor mat too depending on the type you choose and the room in question.
View Our Indoor Door Mats
Moisture Absorbent
Wet shoes leaving footprints on your interior floor coverings is something to be avoided at all costs. Many people do not automatically wipe their shoes when they come inside, so choosing doormats that are as large as possible for inside your door makes good sense. If the floor mat is large enough the moisture will be absorbed as your visitor walks across the mat, whether they are concerned about wiping or not.
Adequate Door Clearance
Something that people often forget when choosing to put a mat inside their home is whether there will be enough clearance under the door. This is a key factor to consider when choosing inside doormats.
Measure door clearance before you order
You could have your heart set on a beautiful thick pile doormat but if there is very little clearance under your door then it is just not possible, the door will not be able to open!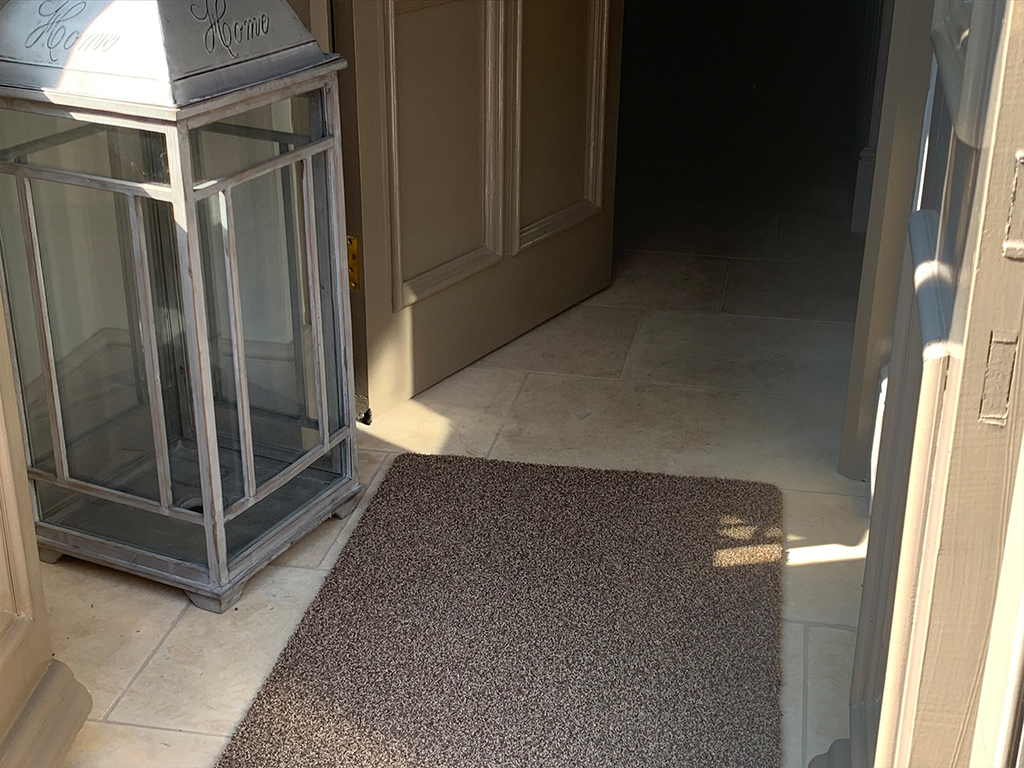 Thicker is not always better
There's no need to worry though, thickness does not determine quality when it comes to doormats, some of the best inside mats for absorbing moisture have a very thin pile. They are made of a type of carpet.
Unlimited possibilities
They can be made to any shape or size and can be used anywhere in the home, whether as a door mat or as a rug, and even personalised with your own design. Carpet mats come in over 100 different colours so there is something to match every decor too.
Where should I put my doormat?
Our advice is that if you have the room, the best choice would always be to have an outdoor mat to scrape away as much debris as possible before you step onto the inside doormat.
Bigger is better
Once inside the doors make sure that the doormat you choose is as large as possible for the area. Sometimes in a narrow corridor, you can turn the inside mat to a portrait orientation so that it acts more like a runner, absorbing as much moisture as possible from shoes.
If you can only fit 1 mat choose coir
If you can only fit a single mat, then coir mats are an excellent choice as they wipe away debris and absorb a lot of moisture too. When you can only have one mat, using it inside will keep your floor as clean as possible and ensure that the mat lasts a long time too.
One final thought when shopping for door mats, don't forget the back door!
View our Cut To Size Coir Mats