Easter Bank Holiday Offer
Easter Bank Holiday is upon us, and with it the beginning of home improvement season! If you're thinking of making some changes at home and upgrading your doormat, now's the time. Take advantage of our Easter Weekend offer. Only available Wednesday 31/03-Monday 5/04.
We are offering £5 off a £50+ order with code EASTERWEEKEND5. £10 off a £100+ order with code EASTERWEEKEND10. £15 off a £150+ order with code EASTERWEEKEND15. And £20 off a £200+ order with code EASTERWEEKEND20. Across our full product range.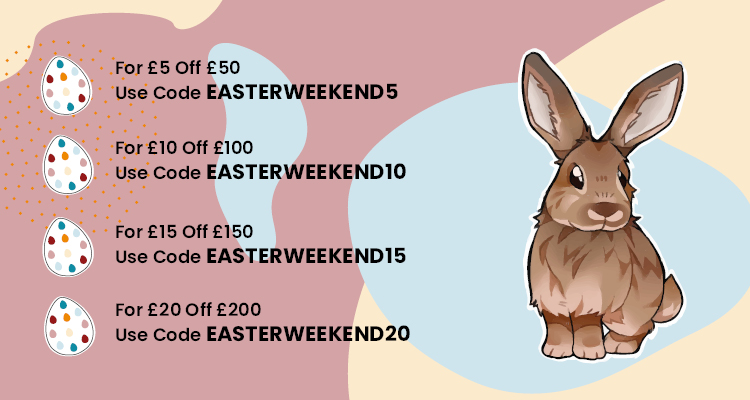 But What Doormat Should I Buy?
Unsure of which doormat to purchase? Here is a short summary of the products best loved by our customers.
PVC Backed Coir 
A product designed for indoor matwells or recesses, especially those with complex or unusual shapes. This is because it can be trimmed to an exact fit. Our PVC Backed Coir is available in an ever-growing variety of colours and thicknesses to suit all entranceways. As our bestseller, our Premium PVC backed coir is perfect for those looking to uphold the traditional golden look that coir matting provides.
Traditional Hand Stitched
Made to measure using techniques passed down over hundreds of years, our Traditional Coir Mats are made from nothing but the finest Sri Lankan Coconut fibers and jute string. As a completely natural product, we they therefore make excellent compost material at the end of their use! Perfect for period and listed homes, our Traditional hand stitched coir mats are those which we supply to National Trust properties in the UK.
Personalised washable doormats
Loved by our customers because of the range of possibilities. With a 72 colour spectrum and even photorealism available, our Personalised Doormat Range has a product to fit into every home. Both our Washable Textile Carpet Mat and All Weather Made to Measure Doormat can be made for matwells or free standing, sitting at 5-6mm thick. As extremely hard wearing products, they subsequently offer a long term solution to your doormat problems. With the ability to wash these products when dirty, gone are the days of a muddy doormat in your entranceway! As a personalised product, once purchased, our designers will provide you with a proof of what your specified doormat will look like for you to approve, before it's made.
We hope that this has helped you in your decision. Don't forget to use the offer code at checkout!
From everyone at Make An Entrance, Happy Easter!
Offer begins 31/03 00.01am and ends 05/04 23.59pm. Coupons cannot be added to previously made orders.