The darling buds of May are finally starting to bloom. Now is the perfect opportunity for some Spring home and garden DIY. With this week being National Gardening Week as well as the lead up to May Day Bank Holiday, home and garden DIY is likely to be on many people's agendas.
Top Jobs: Home and Garden DIY
In the Garden…
The sunshine and showers of recent days means that lawns and borders are likely to be in need of some attention. Time to mow and trim back edges, as well as rid borders of rapidly growing weeds before they become established. It's also a good time to prune spring flowering shrubs once the flowers have finished.
Planting summer bedding plants in borders and tubs is an important job for early May. Fingers crossed we have now seen the back of snow and frost for the foreseeable months!
Sweeping patios and paths free of winter debris and giving them a good hose down is also a good idea in preparation for summer BBQs and garden parties (and warmer weather!).
If you're having visitors over to your garden, it's well worth thinking about the presentation of your patio area. Particularly if your visitors will be venturing between your house and garden.
Our Personalised Prosecco Doormat is a great all rounder for withstanding the elements, protecting your floors inside and welcoming your guests.
You might be thinking about those four-legged visitors and members of your family making more use of the garden, popping outside to stretch out in the sun. Our Personalised Outdoor Mat can be printed with a message as a reminder to wipe their paws, again protecting your floors from muddy prints.
In the Home…
A makeover for your walls and floors is a must in Spring. This introduces fresh colours and surfaces to your home.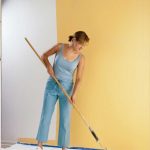 Check out Wikihow's guide on how to best go about painting your walls. One or two new pieces of furniture can also revamp a room and help with decluttering your space.
New flooring around your entrance way gives the perfect opportunity to create a matwell recess, where you can fit a doormat that is integral to the flooring. There are lots of benefits to this, not least that your entrance will look neat and contemporary. Check out our earlier blog How to Make a Matwell for more tips.