All you need to know about cleaning coir mats
Coir is an excellent material to make doormats from. It is absorbent, great at removing grime and debris from shoes and a great eco friendly option. It is very durable and hard wearing and with a little care doormats made from coir will last a long time too. Of course, many people simply allow their mats to get very dirty and then throw them away and replace but the more eco friendly option is to care for your mats and prolong their lifespan.
Follow our instructions for how to clean a coir doormat and your doormats will retain their good looks for as long as possible.
Please read the instructions thoroughly before you start, if you jump in too quickly you could make stains on your coir mats worse.
Important Note: If someone leaves a horrible muddy footprint on your mat the best thing you can do is wait, and read this care guide. Rubbing a wet stain will make it worse. Allowing the mud to dry thoroughly before you start is the best way to ensure you keep your coir mats looking good as new.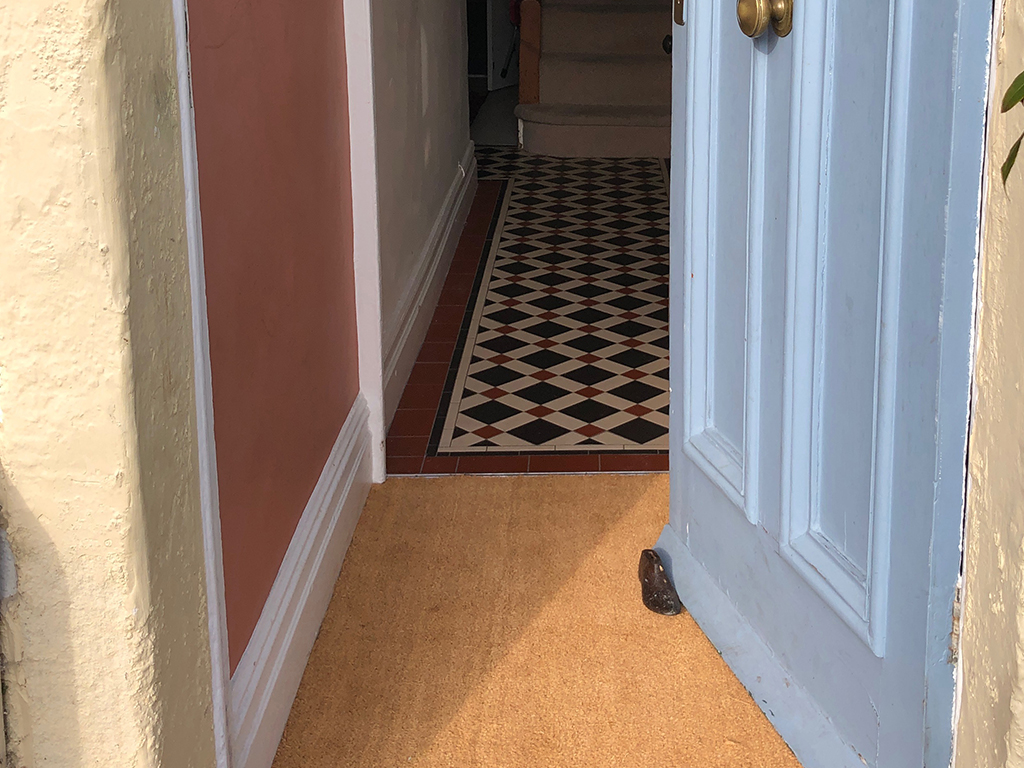 How to clean your Coir Mat:
To clean a coir doormat you should allow mud and wet dirt stains to dry entirely before removing them with a brush.
Depending on the size of the mat we advise removing it from the mat well/recess occasionally to shake dirt free. You can even hang it over something such as a garden chair or washing line and use a stick or broom handle to beat the dirt and dust out of it.
Chewing gum and other substances that stick the fibres together can be removed carefully with a freeze spray with minimal damage to the pile.
Quick Clean Instructions:
Shake your mat regularly to remove loose dirt and debris. If your mat is loose laid this is straightforward, simply pick it up and shake it. If it is fitted into a mat well, you will need to remove it from the well first. If it is too big to lift or has a rubber /PVC backing that has been stuck down into the well, there's no need to worry, simply move to step 2 - the brush.
Remaining dirt particles and visible debris can be removed with a stiff handbrush. You may have a suitable brush at home, but if not don't worry we supply a special coir matting cleaning brush for the purpose.
We do not recommend the use of a vacuum cleaner, except if you use the brush or upholstery attachment on a low setting. The pile of your mat can be weakened by excessive vacuuming on a high setting and a stiff bristled brush does a better job at removing any excess debris. We brush all mats thoroughly before we dispatch them and these are the same brushes we use in our workshop, we sourced them specially, so we know they're the right ones for the job.
For many coir doormats, this is all the cleaning that they will ever need. However, if you have a high amount of foot traffic or your mat becomes ingrained with stubborn dirt or grime then follow our deep clean tips below to give it a really good clean.

Deep Clean Instructions
First, remove visible dust and dirt by giving the mat a shake and a good clean as above so that you can judge how much work is required in your deep clean.
Remember - Mud and wet dirt stains should be left to dry, and then removed with a brush.
Coir matting is very absorbent, which is why it is an excellent material for a doormat. It is not recommended to saturate the mat when cleaning as this will make stains worse. Therefore, of course, a coir doormat cannot be machine washed. The stiff fibers of the mat are made from coconut husks, a totally natural product and they will start to biodegrade if you saturate them with excess water.
Remove stains and stubborn dirt - Dry foam or cleaning powder should be used to remove any stubborn marks.
Chewing gum can be removed with a freeze spray.
Oil stains are difficult to remove completely. We recommend going slowly and using a small amount of undiluted detergent such as washing-up liquid to try to dissolve the grease. Work the detergent into the pile gently using your fingers or a small brush such as an old toothbrush. Blot the stain with kitchen paper to remove the detergent and the oil. You may need to do this several times before the stain starts to fade.
Pet Pee & Poop! - Unfortunately, this does happen and it's always bad news for your coir doormat. Often as the mats are recommended for indoor use, and are right next to the front door they are the last natural material between your pet and the great outdoors. Pets seem to love to use them as a litter tray if they get caught short. Usually, if your pet starts to use your coir mat as a toilet you will have to replace it. The pile is so absorbent that it will absorb the unpleasant odour and be very difficult to remove as you can't really wash the mat as described above. As a last resort, you could attempt to wash the area with a small amount of mild detergent with antibacterial and antifungal qualities and a small amount of warm water and blot it to dry.
Important note: Please do bear in mind that this is the last resort and may well ruin the mat but you may consider it worth a try before you throw the mat away anyway. Usually, when our customer service team have an enquiry of this nature they recommend the pet owner chooses a different doormat material for their next indoor doormats such as machine-washable cotton or a synthetic coir alternative.
Do:
Wait until mud is dry before you attempt to remove it
Use freeze spray on chewing gum
Use a stiff hand brush
Shake your door mat regularly
Do not:
Do not get your mat excessively wet - It is not washable!
Do not use your vacuum cleaner. This can pull and unravel the coir which has been twist-piled into the backing, leaving "rat-tails" of coir yarn and gaps in the coir door mat.
If you need to vacuum it, use a brush or upholstery attachment and low suction. A low setting is perfectly adequate to remove dust
Do not use solvents as this will cause the Rubber /PVC backing to expand, damaging the coir and pile loss may occur.
Things to avoid whilst cleaning:
Do not vacuum, this can pull and unravel the coir fibres from the PVC backing leaving gaps within the coir. If you do need to vacuum the mat due to its size, use with a soft brush attachment only
Coir matting is very absorbent. We do not advise saturating the mat when cleaning. Dry foam or cleaning powder should be used to remove any stubborn marks
Do not use any solvents on the matting, this can cause both damage to the PVC Backing and the coir fibres resulting in pile loss
Remember! Your Coir Doormat 4-Step Cleaning Checklist:
Allow any mud or wet dirt stains to completely dry
Then remove the dust and marks with a stiff brush
Do not vacuum, this can pull and unravel your mat
Coir Mats are very absorbent, do not saturate