Although we have run a Black Friday offer for years, for 2022 we are doing something a little different.
As a family-run small business, proud to produce as many of our products as possible here in the UK, Black Friday is very hard for us.
We do not have the same profit margins as big business and because most of our products are made to order we don't have old-season stock to sell at a heavily discounted price.
Every day, across our business, we work hard to ensure that each mat we send out matches our rigorous quality standards and we would never spend less time making one of our hand-crafted items perfect for you just because we sold it cheap on Black Friday.
We are passionate about the quality, sustainability, and longevity of our products and these values feel incompatible with the excessive consumption promoted by Black Friday deals.
With economic pressures as they are we know that most families are looking to make savings where they can. So we will be running a limited offer, just not a Black Friday one. Read on to find out more…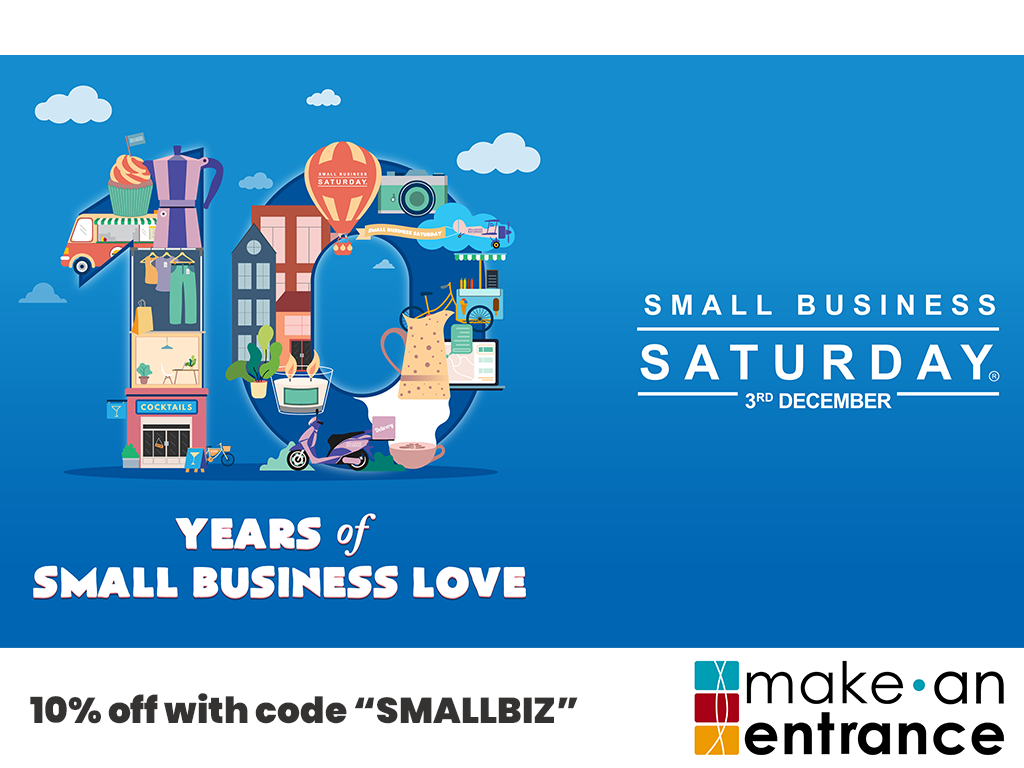 Small Business Saturday
Another less well-known campaign runs at this time of year too. Small Business Saturday.
Originally started in 2010, its aim is to showcase all that small and local businesses have to offer.
Consumers can use the campaign's Small Business Finder to discover small business offers local to them.
The campaign has grown enormously and there are at least 50 other Lincoln-based businesses listed on the finder, alongside Make An Entrance. Consumers UK-wide will be able to use the tool to find businesses to support in their local area. Take a look to see which businesses local to you are getting involved.
UK Small Businesses
The impact of small business cannot be overstated, just look at these figures we just received from the Federation of Small Business (FSB):
99.2% of all businesses in the UK are small and independently run – there are 5.5 million of them
Around half of all people employed in the private sector work in small businesses, currently 16 million people
SMEs contribute £1.6 trillion to the British economy
When you shop with small and local businesses 63p in every pound spent stays in the local economy as it is re-spent in rent, rates, wages, etc. *
Our "Not a Black Friday Offer"
In celebration of Small Business Saturday From today until December 5th we will be offering 10% off our custom printed mats and personalised gifts range with code "SMALLBIZ"
The code will work for anything in our Unique Christmas Gifts category.
All these products are individually hand-made to order here in the UK by our tea of skilled artisans. We hope you'll find them inspiring as gift ideas for your loved ones this Christmas?
What could be nicer than choosing something unique and individually handmade to show how much you care?
Please support small businesses, even if it's not ours
But if none of these products is right for you, we hope you'll consider spending your money this Christmas with another small or local business, even if it is not with us.
The power of your money does much more good for the local economy when it is spent with small and local businesses, and in these tough times, we all need to help each other as much as we can.
Wishing you and yours a wonderful festive season,
Samantha and Stuart Burlton,
and the entire Make An Entrance team.
*Figures courtesy of FSB November 2022.