Are you searching for Jute Matting or Bell Tent Coir Matting?
Customers often ask if we can supply them with matting for Bell Tents. Traditionally this is known as 'Jute Matting' and not something that we currently provide, although we do have a product that can help you. Read on for more info.
Instead of jute, we choose to work with coir matting, our primary focus being doormats. However, both types of matting are made from very similar raw materials.
Coir matting is made from coconut coir fibres, whereas Jute Matting is made from the white jute plant. The materials look very similar at various stages of their production and both are grown in India. This is therefore likely where the confusion between the two arises.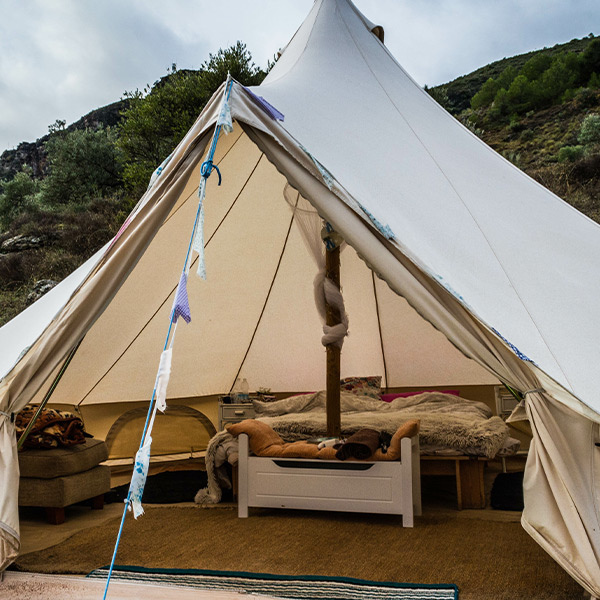 What's The Difference?
The difference between Jute and our Coir Doormat material is the way that the fibres are woven and the nature of the material. For Coir Doormats, the fibres are tufted to create a tight piled, scraping surface. As a result, it is perfect for removing dirt from footwear and absorbing excess moisture. Alternatively, Jute Matting is woven to create horizontally running fibres. This provides a smooth surface for sitting on and insulating people inside the Bell Tent from the ground.
An Eco-Friendly Solution
In recent years, it has become increasingly difficult to source biodegradable woven jute in the UK with many plastic alternatives now the only option on offer.
If you do have a Bell Tent, we would advise that you also consider using coir for your bell tent matting. This is because it provides an eco-friendly and completely biodegradable option to suit your needs. While also very hard wearing and durable.
Here at Make An Entrance, we make made-to-measure coir matting in very large shapes and sizes. If you would like any advice we would be happy to help you. We're always looking for ways that we can look after the environment.
We hope that this has answered your questions on Bell Tent Jute Matting, and why we would use natural coir if you are struggling to source jute rather than synthetic jute alternatives. If you have any doormat-related questions, please Contact Us. We'd love to help you!