We specialise in bespoke matting, so when our neighbour Reflect Recruitment in Lincoln got in touch to request a custom logo mat for their new office we were absolutely thrilled.
Although we can work very quickly and produce mats for customers in only a matter of days, the more notice we have the better so it was wonderful that we've had several months to work with Reflect Recruitment discussing their exact requirements and ensuring that their finished mat is absolutely perfect.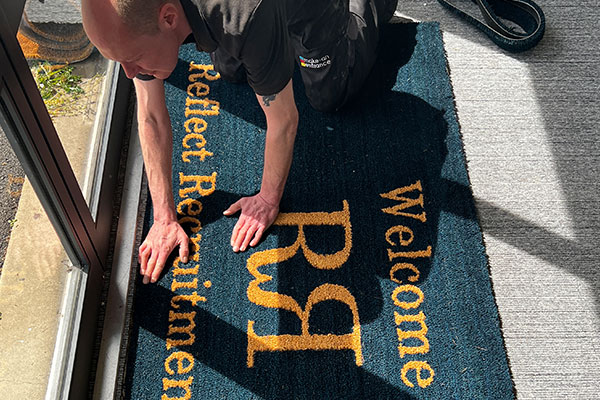 Even before they had the keys we were able to offer advice about the right type of matting for their needs. Doormats may look pretty similar to the uninitiated but actually there a quite a lot of factors to consider.
Factors to consider in choosing a custom logo mat:
Some of the things we will ask are:
Indoors or Outdoors?
Mat well or Freestanding?
Logo or Plain?
How much clearance is under the door?
Who is available to clean the mat?
How much foot traffic will the mat get?
All of these factors influence the type of mat we would recommend.
Don't worry, if you ever need to call us for advice (020 8819 5869), we never try to talk you into anything, we just want to ensure that all our customers end up with the perfect mat for their unique set of circumstances. That way it will look good for as long as possible and do its job of keeping your internal floor coverings looking pristine too.
Stages in the process of purchasing a logo doormat from us:
Initial discussion to talk about requirements & you provide us a copy of your logo
Your named account manager will email you a quote and description of what we recommend
If you are happy with the quote we produce an artwork
You approve the artwork, or we amend it until you're happy
Once the artwork is approved, we produce the mat
Mat is delivered to you around 15 working days from the artwork sign off
Here's what our customer thinks about our service:
A BIG THANK YOU to Make an Entrance.

Our new office, based on Newark Road, North Hykeham now has a striking new coir mat in the entrance, the colours are vibrant and it catches the eye, dealing with Anna and the team has been a pleasure, thank you.

Caroline Alton, Executive Manager at Reflect Recuitment
We don't generally offer a fitting service but we did go and fit this mat and have some great pictures to share with you. We'll follow up with another blog detailing how to fit a coir logo mat.
In the meantime, we hope you enjoyed seeing the beautiful mat we made for Reflect Recruitment. If you are interested in a mat for your business, please get in touch, our business team would love to help you.