We're so pleased to announce that we've chosen YMCA Lincolnshire as our Charity of the Year for 2020 – our first ever charity of the year!
This year we've decided to combine all the money we raise from a series of events throughout the year into one pot. This will focus our efforts on making a much bigger difference to our charity of choice.
Giving back to worthy causes and supporting our local community is an important part of our business. It brings us together as a team and it's hugely rewarding for us to see all our hard work helping an important cause.
 What is YMCA Lincolnshire?
YMCA supports vulnerable people in the community. It provides numerous support services and facilities within Lincolnshire, including 24-hour emergency overnight accommodation, housing, day care, youth work and training.
The charity also runs the Nomad Centre on St Rumbold's Street in Lincoln, the only permanent direct-access homeless provision in Lincolnshire.
Why did we choose them as our charity of the year?
We first got to know the YMCA Lincolnshire team last year when we donated five branded doormats to the charity's new Nomad Centre.
We visited the centre to see where the mats would be used. YMCA's Chief Executive Officer Caroline Killeavy gave us a tour of the facilities.   As a result, we were blown away by the brilliant work being done to support homeless people in Lincoln.
Having been so impressed by the facilities that are provided at the new Nomad Centre, we made it our aim to raise enough money to sponsor one of the 20 en suite rooms at the facility.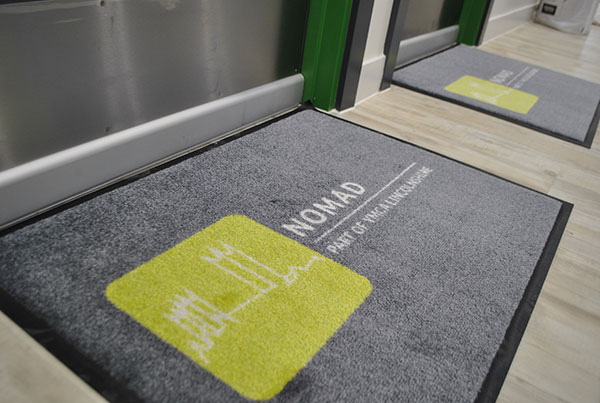 How will we raise the money?
We've already signed up to take part in various activities throughout the year to raise our target. These include the Lincoln 10K, Action Challenge, the Great North Run and the 2020 Lincoln Santa Fun Run later in the year.
We are also hosting a series of lent lunches. At these we'll serve a basic meal of soup and bread in exchange for donations. Don't hesitate to get in touch if you like to come along.
What will the money we raise do?
Our fundraising target is £5,000. This will cover the cost of sponsoring one room at the Nomad Centre for the next three years.
The money from the room sponsorship will go towards the great work YMCA does. They work to identify reasons for homelessness, and provide residents with a safe space through their own en suite room. They also provide specialist 24-hour support for the health, well being and individual needs of those staying at the centre.
How can you help?
We would greatly appreciate any support for our fundraising efforts this year. Whether it's a small donation or sharing one of our fundraising posts on social media, every little helps!
To donate to our fundraising efforts visit our JustGiving page. To keep up to date with all our latest activities follow us on Twitter, Facebook, LinkedIn and Instagram.
YMCA Lincolnshire also has a number of fundraising events taking place throughout the year, including Sleep Easy 2020 on 6th March. To find out more about how you can get involved, visit their website.