At Make an Entrance giving back to worthy causes and supporting our local community is an important part of our business.
When we found out about YMCA Lincolnshire's latest project to open the new Nomad Centre on St Rumbold's Street in Lincoln, we were keen to get involved and support the project to help make a difference to the lives of those facing homelessness in the city.
What is the Nomad Centre?
The Nomad Centre is a specialist facility for homeless people built by Lindum Group for YMCA Lincolnshire – an organisation which provides a range of support, services and facilities within Lincolnshire including emergency overnight accommodation, housing, day care, youth work and training.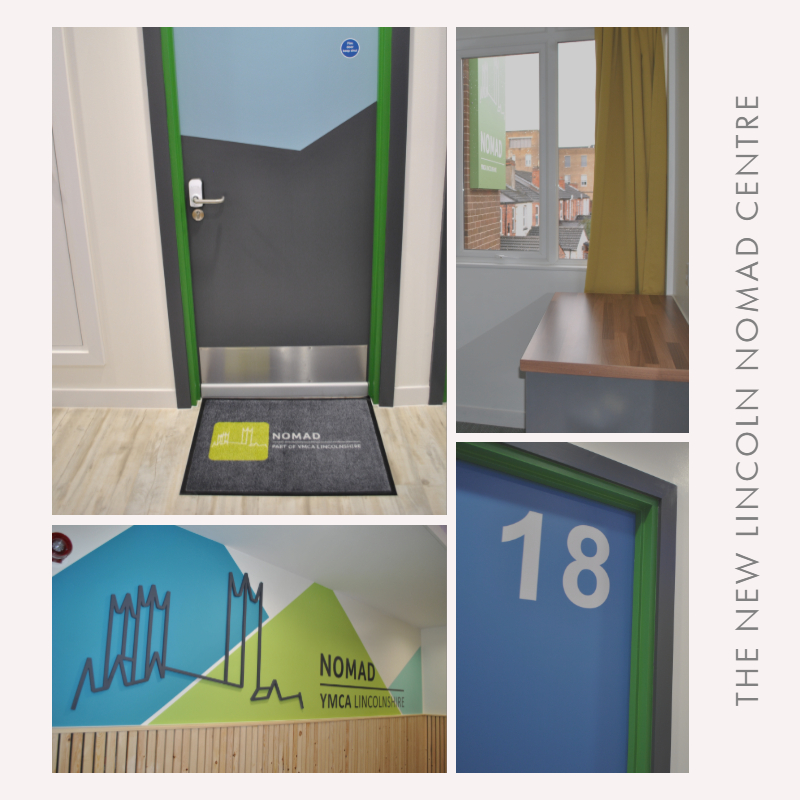 The YMCA and its projects aim to uphold the worth and dignity of all individuals, ensuring that people of all ages and backgrounds have access to the basic essentials of life and can enjoy the benefits of companionship.
The Nomad Centre is a new facility which replaces the existing Nomad shelter on Monks Road and is the only permanent direct access homeless provision in Lincolnshire. It has 20 new en suite rooms, two hostel rooms, a professional kitchen and a day centre giving residents 24-hour access.
The centre was officially opened by Her Majesty's Lord-Lieutenant of Lincolnshire, Mr Toby Dennis, on Wednesday 13th November and a community open day was held on Saturday 16th November for members of the public to visit the centre and get first-hand experience of the fantastic facilities.
How are we involved?
The Nomad Centre will support those without homes, those forced to sleep rough, those with complex difficult backgrounds and those who have suffered from abuse, addiction or have fallen on hard times. The YMCA therefore wanted to ensure that these rooms were more than just four walls and a bed; every room is designed as a Psychologically Informed Environment (PIE) for Trauma Informed Care (TIC). When we heard about the wide-set corridors and laminated flooring, we knew our doormats would make the perfect welcoming touch.
Delighted to be able to get involved, we produced five doormats that not only match the Nomad Centre's branding but are also machine washable so they can be cleaned easily.
Ahead of the official opening last week, we visited the centre to deliver five of our Carpet Logo Mats, which are each complete with the green-coloured Nomad logo printed big, bright and clear on each mat.
During our visit we were given a tour of the amazing facility by Rachael Baxter, Community Engagement Manager at YMCA Lincolnshire. The rooms were dressed to appear occupied by residents, with inspiring case studies from those helped by the centre placed in the rooms to highlight the impact the project has on the community. It was fantastic to see how our doormats have instantly added a homely feel to the rooms.
Why is the new facility so important?
During our tour, we talked to the centre staff about how important these rooms will be for improving the quality of life for the residents. The whole centre creates a homely and positive environment and is a crucial service given that street homelessness in Lincoln is now three times higher than in 2010.
We're thrilled to have played a very small part and would like to thank YMCA Lincolnshire for all their hard work within our community – the new Nomad Centre looks fantastic! If you'd like to know more about how you can get involved to support the YMCA, visit: https://www.lincsymca.co.uk/get-involved/