Use our doormat size guide to find the best mat for your home.
If you're considering purchasing a doormat, you may be wondering what the best material is or which size would be best for your doorway. To help answer these questions, we've written an in-depth doormat size guide so that you can make an informed decision and find the best mat possible!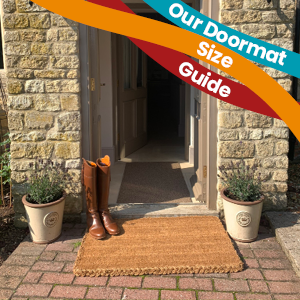 What Is The Standard Doormat Size?
We find that customers often ask for a 'standard sized doormat', but most people don't have a perception of what standard is! In the UK, the standard single door mat is 75cm x 45cm. To match this, we ensure that our standard plain or personalised door mats are available in these dimensions!
Our doormats don't just come in different sizes but also in a range of thicknesses too! When purchasing from Make an Entrance, you can choose from ten different sizes and five thicknesses! They range from Extra Small (60cm x 40cm) if space is an issue to XL Patio (180cm x 45cm), perfect for Patio Double Doors. 
Whether you have an average single door or large double doors, we'll have the doormat to suit your home! For more information, please contact our customer service professionals, who will be happy to advise you on styles, sizes and much more!
What Size Should I Choose?
When selecting a standard-size doormat, we recommend purchasing the largest mat that will fit comfortably in the space. In doing so, your door mats fill the entire entryway and capture more dirt off of people's shoes. Not only does this keep your home clean and tidy, but it acts as an area where visitors can remove shoes.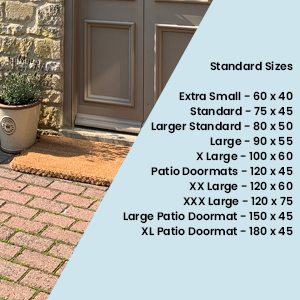 When purchasing 'off-the-shelf' standard-sized doormats, they can actually vary by a couple of centimetres either way. If exact dimensions are required, it may be better to go for a made-to-measure product as this will fit the space precisely and better than a general average-size doormat. Here is our doormat size guide for reference:
Our Made To Measure Products
If you require a doormat with exact dimensions to fit a particular space or mat well/ recess, our Cut To Size Coir Matting or Made or Measure Doormats are perfect for you.
Our range of high-quality made-to-measure mats come in a range of thicknesses, so they'll fit all door clearances. If you want to add a touch of fun to your doorway, we have an ever-expanding range of Personalised Doormats to add a customised touch to your home.
Which Thickness Is Best?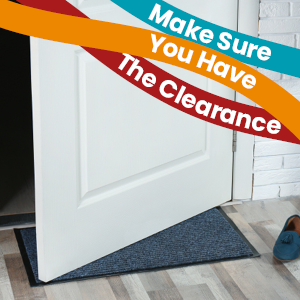 The answer to this question is that no specific thickness can be defined as the 'best'. It depends on the clearance underneath your front door. You'd be surprised at how many customers order a luxuriously thick doormat only to find the front door won't open over it! Our customer service team will always tell you to remember to measure clearance prior to purchasing a doormat!
There is a common misconception that the thicker the coir mat, the better the quality. This simply isn't true! The quality of a coir mat depends on the density of the weave, not the thickness. A thinner, densely woven mat can often have a more effective scraper action than a thick average front door mat.
Which Type of Doormat Should I Purchase?
Deciding which type of doormat to purchase can seem daunting, but it doesn't have to be. Here's a rundown of the types of doormats we offer, along with their benefits:
Coir Door Mats:
Coir doormats are one of the most popular types of matting available. Made from natural coconut husks, coir is incredibly durable and water-absorbent. This means that it is effective at stopping dirt from entering your home, as well as lasting for years to come.
Machine Washable Door Mats:
Our machine-washable mats are a great option if your entryway requires a thin doormat. Whenever they get dirty, simply pop them in the wash, and they will look brand-new! We also offer a made-to-measure service so that if you have a double door design, you can find the right-sized mat for your doorway.
Rubber Door Mats:
Our rubber doormats are heavy-duty, perfect for if you want an outdoor doormat to scrape off excess dirt and debris. Simply hose it down when it requires a quick clean! You can also add multiple doormats or made-to-measure options to cover more space.
Why Choose Make An Entrance?
At Make An Entrance, we pride ourselves on offering the highest quality doormat products for both commercial and residential use. We believe that your doorway should be both stylish and functional, and we strive to provide you with products that do both. Having been in business for over 50 years, we're experienced in helping customers find the perfect doormat for their specific needs. If you have any questions, our friendly team of customer service professionals are here to help you find the best doormat for your home.
We hope this size guide has helped you choose the right doormat for your home. To view a range of coir mats, rubber mats and much more, view our range of standard doormats here! If you need any further help with your doormat enquiry, our customer service team would love to help you. Call us on 020 8819 5869, or email us at help@makeanentrance.com.
 Are Thicker Doormats Better? doormat custom size, standard doormats & doormat size guide
Doormat Size FAQs:
We've done our best to try and answer some of the most common questions about doormats below:
What Size Should A Doormat Be?
The answer to this question depends entirely on your needs. If you have a standard-sized single door, the UK average doormat is 75cm x 45cm, whereas if you have a larger doorway, you may require two separate mats or a made-to-measure one.
Should a Doormat Be Wider Than a Door?
Your doormat should be at least as wide as your front door to absorb moisture and collect dirt and debris. This will make it as effective as possible, and if you have a rug underneath, it will keep it looking good as new.
Should a Welcome Mat be Inside or Outside?
We recommend that you use two mats for maximum effectiveness. The outdoor doormat should be made from a durable material, such as rubber, to scrape off the initial dirt. An indoor mat should follow this with a water-absorbent material, such as coir. Combined, this will prevent dirt and moisture from entering your home. Find out more information - Do welcome mats go inside or outside.