Custom Shaped Door Mat
Awkward shaped mat well? Don't worry; our workshop can create a Custom Shaped Door Mat made to your template.
Made to a Drawing
Many mat wells are not exactly square but sometimes they can present a real challenge.
If your door mat has all 90 degree right angles like to the dimensional drawing pictured below, that's no problem. Please create a similar drawing for your specified dimensions and email to help@makeanentrance.com so our workshop cuts to your specifications.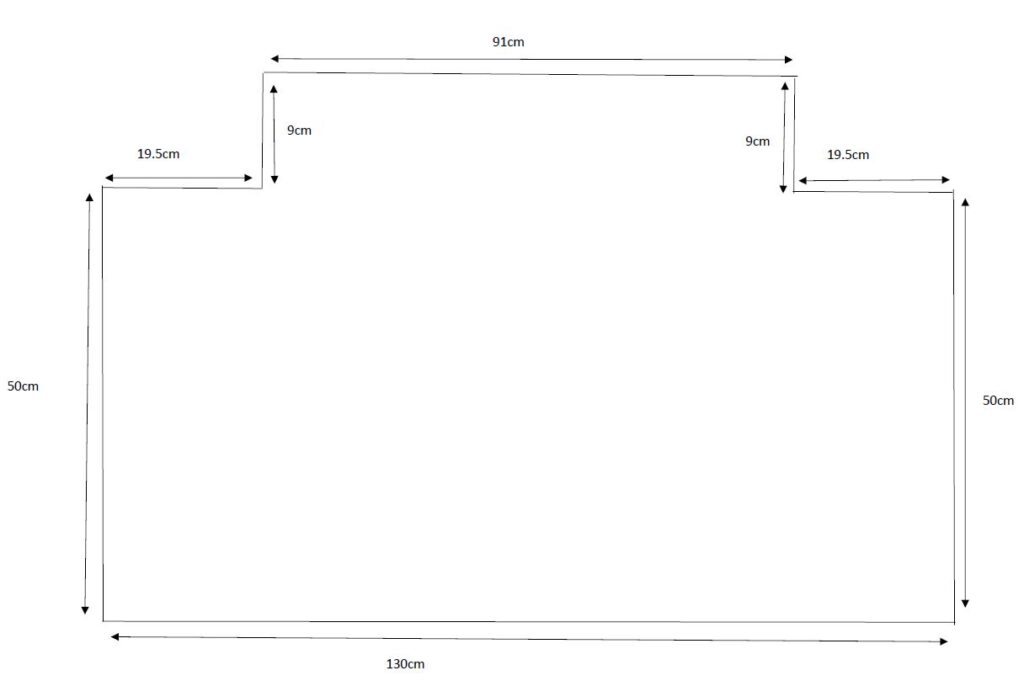 Made to a Template
If the area you would like to fit a mat is an unusual shape, perhaps with several cut out sections or non-90 degree right angles, we'll need a template to work from. Simply create a life size physical template and send it to our Lincoln workshop here. Don't worry, this is easy to do, we explain below. The template ensures that the mat we make for you is perfect. We ask for this because if angles are not 90 degrees, it will impact the lengths of the doormats sides.
But What is a '90 Degree Right Angle'?

You can tell if your doormat has all 90 degree angles if it's sides are the same length as the side opposite, and adjacent sides are parallel to each other. So, if those two sides continued forwards or backwards they would never meet.
Is it Possible to Create a Semi-Circle Door Mat?
Yes! However, a true semi-circle has a height that is half of the length of the straight edge (right). For example, if the bottom edge of the shape was 100cm long, the semi-circle would be 50cm in height.
If you want a semi-circle shape, but it doesn't fit to this criteria,  please send in a physical template to our workshop here. This is so we can ensure your door mat is created to your exact specifications.
How do I make a template?
First take the measurements of all sides of the mat well or area. This way you can check the template is to scale before you start. You could even use our PVC Backed Coir Mat Fitting Guide tactic. Draw on the edge of your mat well in chalk first and then lay the paper on top to get the basic shape 'printed' on the paper.
There's no need to use special materials to make a template, thick paper (such as wall paper), a paper table cloth or plastic sheeting are all fine, and we've had lots of other types of material too! Just go back to your 'Blue Peter' or school days and get cutting and sticking!
When your template is complete, we would ask that you mark which side is the top. As in the side that would be facing upwards when the doormat is down. As well as well as marking on what side of the template the door will be.
Check Your Template
Once you have created the template we would recommend you check (and double check!) it is the perfect fit within your mat well. The last thing you want is a custom shaped door mat that doesn't fit! This is especially important if you choose to have a traditional handstitched coir mat made to a template as you cannot trim them in situ for the perfect fit like you can with our PVC Backed Coir Mats.
If you are uncertain whether a sketch or life sized template is needed for your custom shaped door mat just get in touch!
Fitting Your Irregularly Shaped Doormat
Once your doormat has been cut to your template by our skilled workshop team, it will then be dispatched out to you. We do not currently offer a fitting service. However, the care and fitting guide that we send with every order provides everything you need to know.
Next Steps
Send your life-size template in to our workshop here or email your dimensional drawing to us at help@makeanentrance.com. For additional support call us on 02088195869, or email us at help@makeanentrance.com, and we'd be happy to assist you.
Browse our cut to size coir matting here where you can decide which type of matting you'd like your irregularly shaped doormat to be.